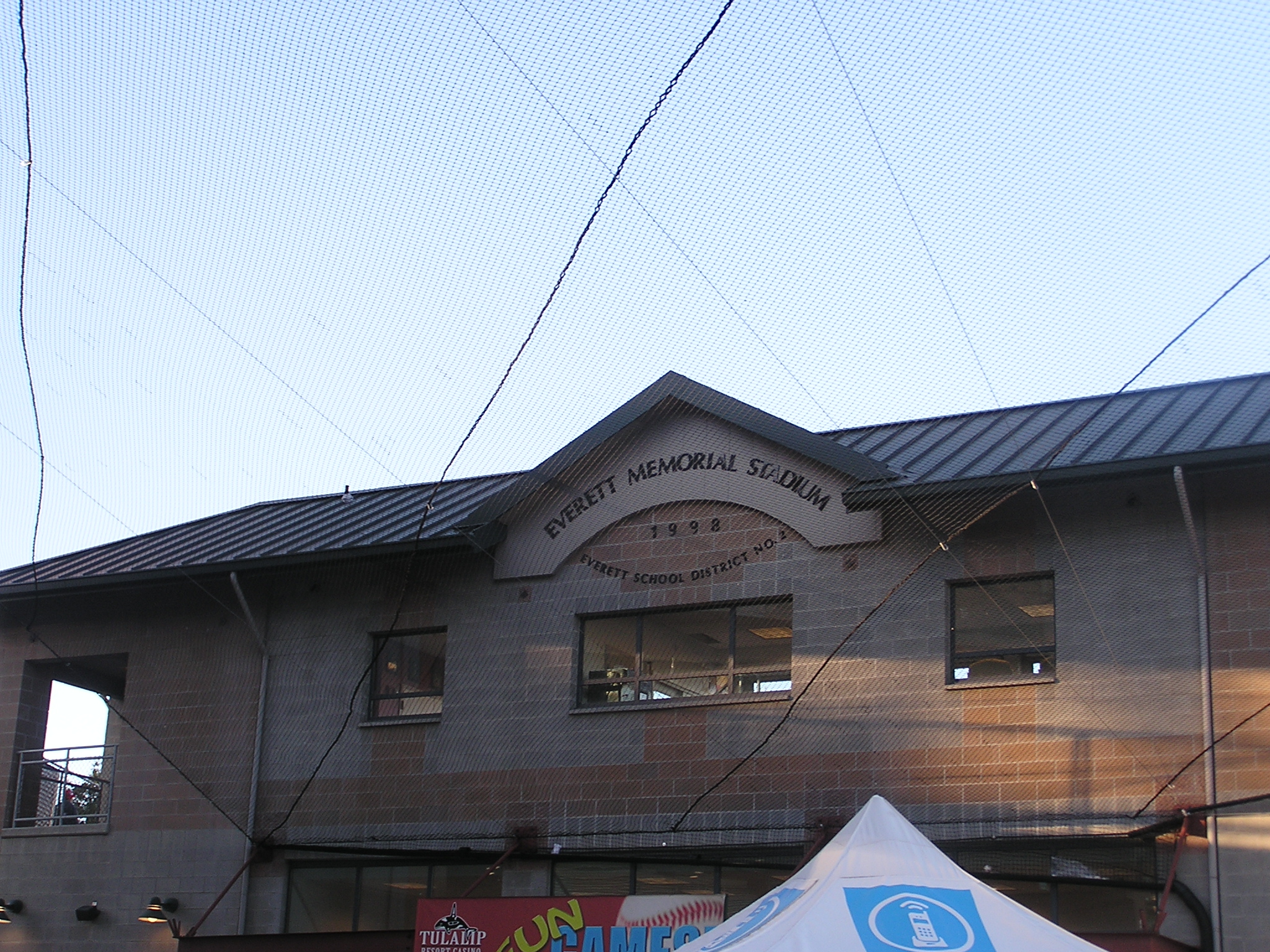 TEAM ::: EVERETT AQUASOX
LOCATION ::: EVERETT, WASHINGTON
MY FIRST VISIT ::: AUGUST 13, 2007
OPPONENT ::: SALEM - KEIZER VOLCANOES
LEVEL ::: NORTHWEST LEAGUE 'A'
RATINGS
BALLFIELD ::: C
SCOREBOARD ::: C
FOOD ::: B
FACILITIES ::: B
MASCOT ::: B-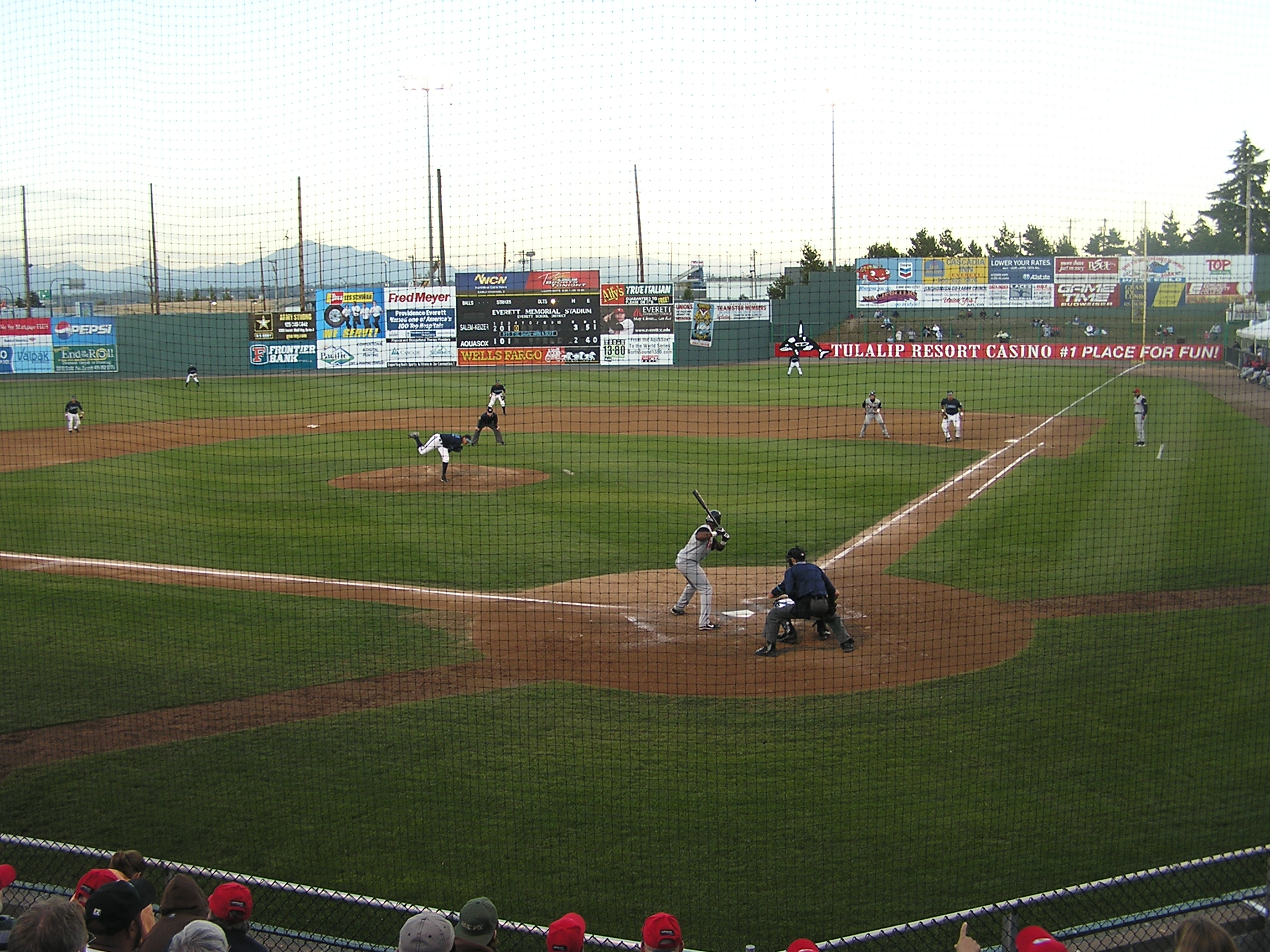 MY TAKE ON THE PARK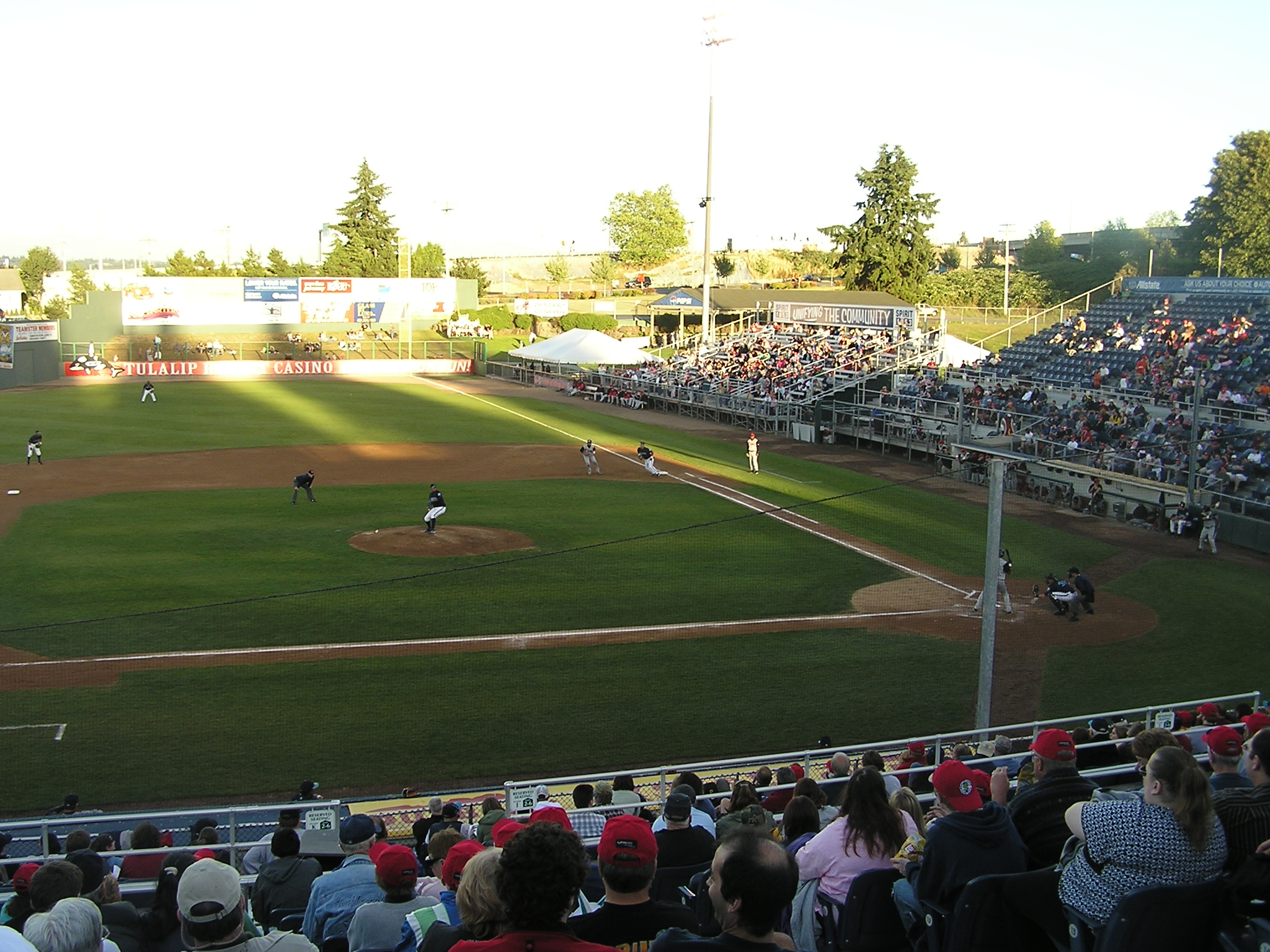 LOCATED JUST 30 MILES NORTH OF SEATTLE, EVERETT OFFERS SUBURBAN SEATTLE FANS A CHANCE TO LOOK INTO THE FUTURE. AN OLD TIME LOOKING PARK WITH SOME COMFORT MAKE A TRIP TO EVERETT A GOOD CHOICE FOR THOSE WHO DO NOT
WANT TO HEAD BACK TO THE BIG CITY.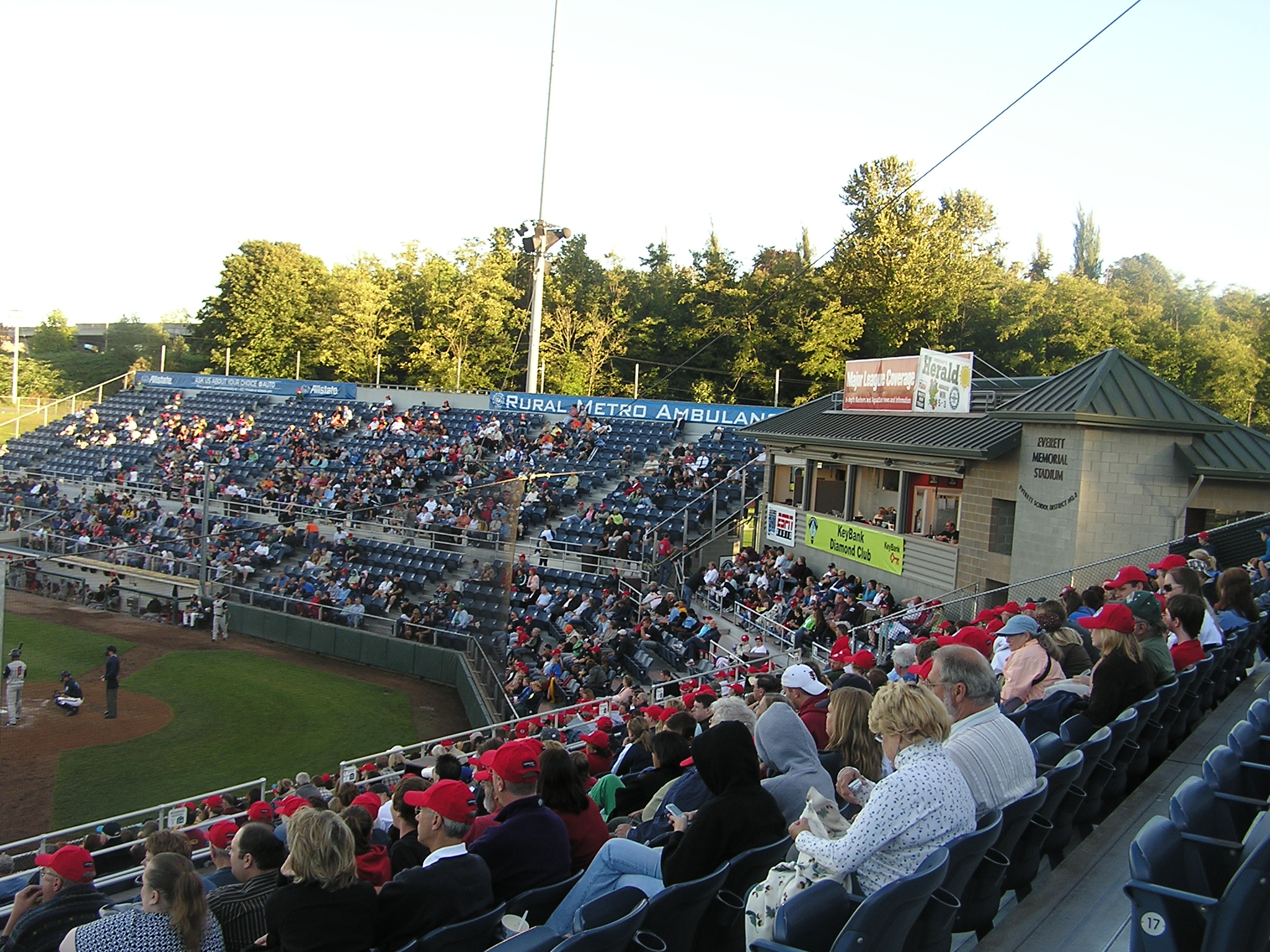 BEFORE I START ON EVERETT, LET ME JUST SAY SEATTLE IS A MAJOR CITY WITH MAJOR CITY CONSTRUCTION PROJECTS AND BIG CITY TRAFFIC. PLUS THERE IS A LOT TO SEE WITHIN 4 HOURS OF EVERETT SO I WAS STUCK IN THE EMERALD CITY TRAFFIC AND ARRIVED TO MY FIRST AQUA SOX GAME A LITTLE LATE. MIDDLE OF
THE 1ST INNING, I AM USUALLY AT THE GAME 90 MINUTES PRIOR TO FIRST
PITCH.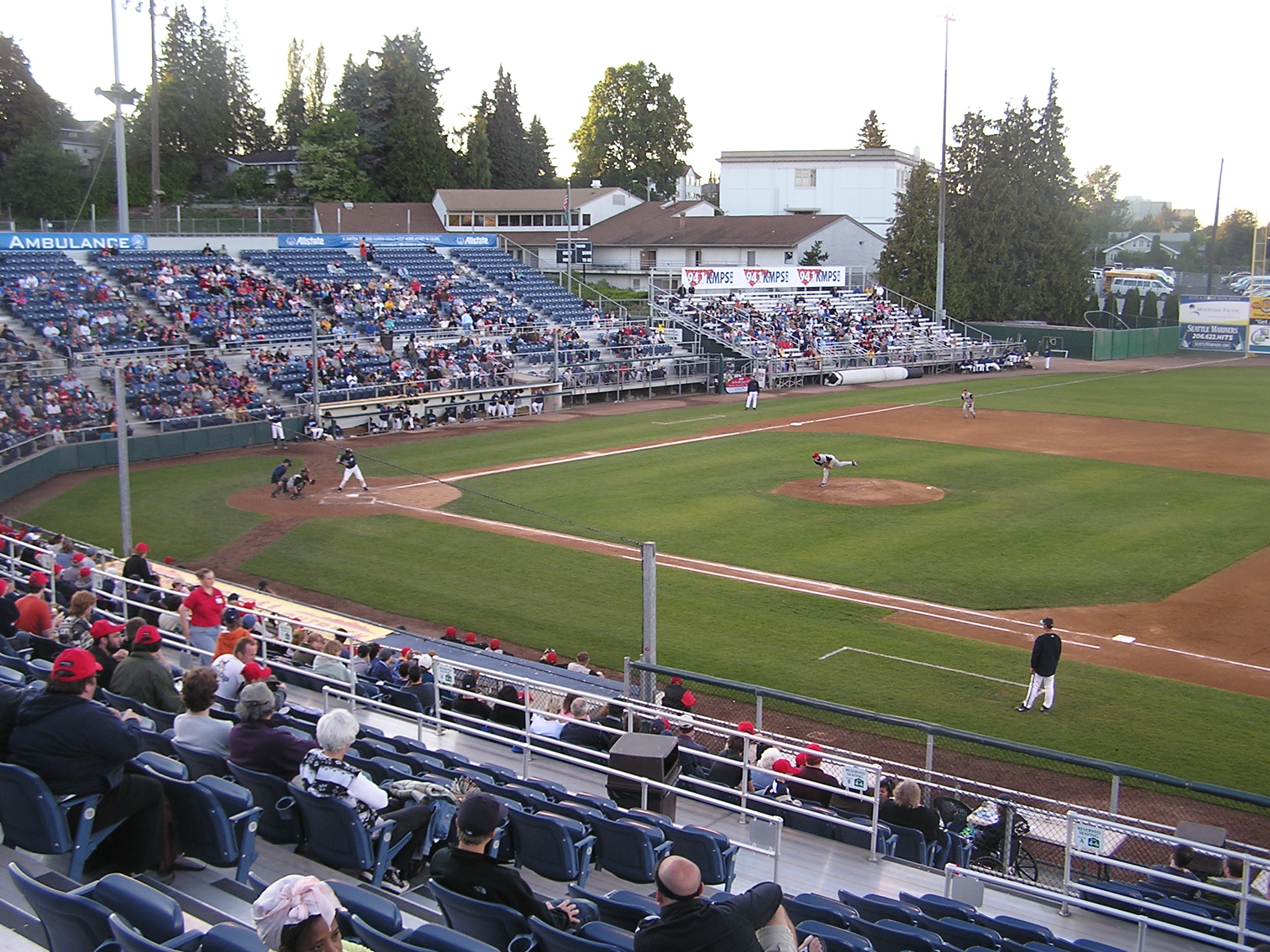 TO MY SHOCK, I FOUND A PARKING LOT RIGHT NEXT TO THE PARK, BEHIND THE OUTFIELD WALL. THE REASON FOR THIS SHOCK SHOCKED ME MORE, $6 TO PARK. $6 FOR THE NORTHWEST LEAGUE?? HUH? OK I LEFT THE CAR BEHIND AND WALKED UP THE HILL FOR WHAT APPEARS TO BE THE MAIN ENTRANCE.
ANOTHER SHOCK, THE TICKET PRICES. IN '07 DIAMOND VIEWS WERE $15 AND FIELD BOXES WERE $12. I SETTLED FOR AN UPPER BOX WHICH WERE $10. I WOULD RECOMMEND THE UPPER BOX
BECAUSE THESE SEATS ARE SO COMFORTABLE. WIDE DARK BLUE SEATS MAKING ME HAPPY I DIDN'T HOLD BACK THE $3 FOR GENERAL ADMISSION. THESE SEATS ARE
DEFINITELY WORTH THE $3.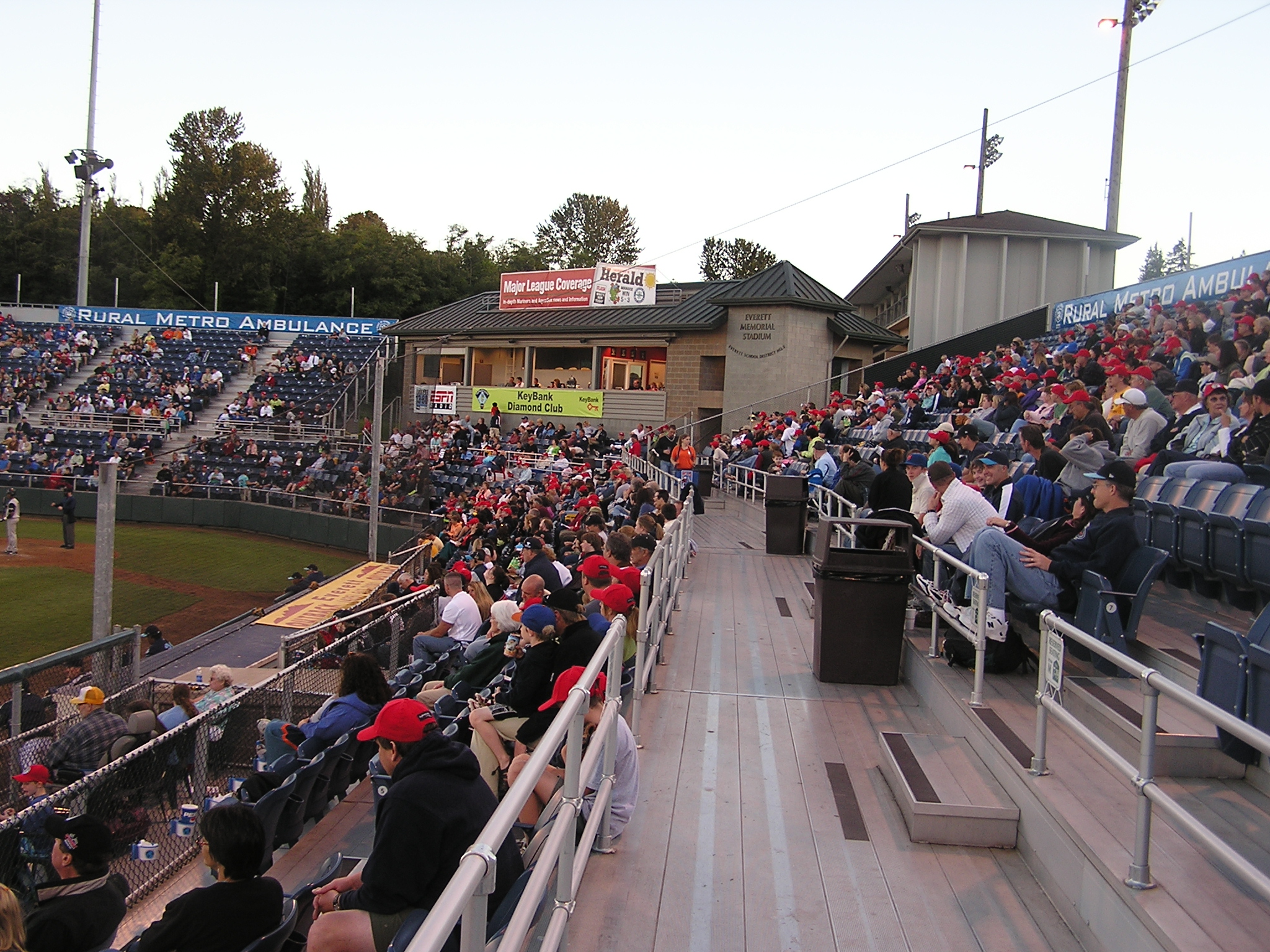 AS FOR THE PARK ITSELF, IT ALWAYS MAKES A GAME BETTER WHEN YOU ARE COMFORTABLE AND I WAS HERE. HOWEVER, WHEN I WANTED SOMETHING TO EAT I HAD TO WALK DOWN THE ALUMINIUM STAIRS AND ONTO AN ALUMINIUM WALKWAY, MAKING ME WONDER HOW THEY KEEP PEOPLE FROM SLIPPING HERE IN THE UPPER NORTH WEST. DOWN ANOTHER SET OF STAIRS TO THE CONCESSION AREA, WHICH MAKES
YOU FEEL LIKE YOU JUST LEFT THE PARK. THERE IS A HUGE AREA WITH A SOCCER FIELD, TOO BAD THEY DON'T HAVE SOME SORT OF BASEBALL THING OVER THERE.
COMPLETELY AWAY FROM THE GAME, THE CONCESSION AREA OFFERS HOT DOGS, BRATS AND COFFEE.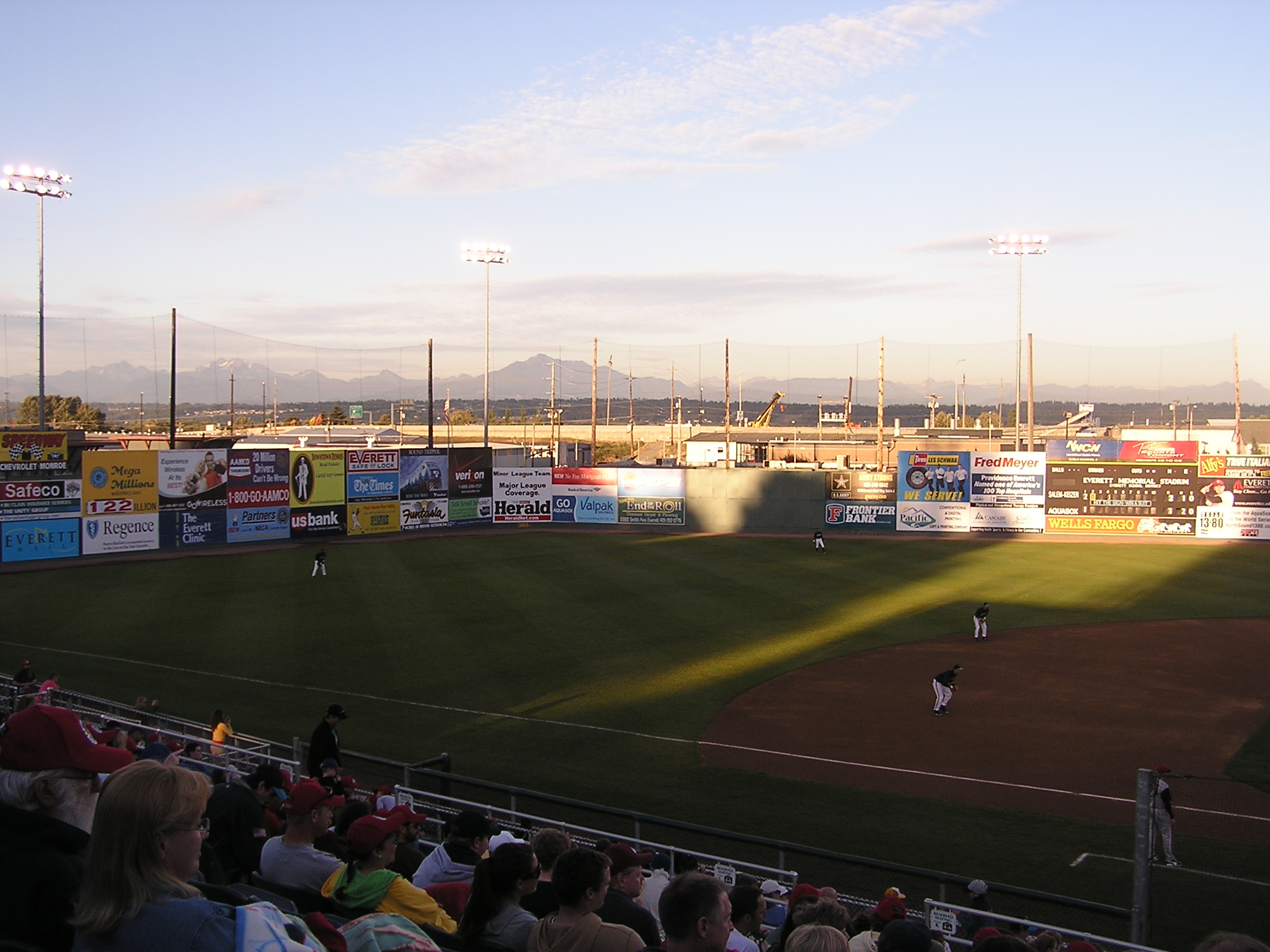 ONE OTHER AREA TO KNOCK, I LIKE THE MANUAL SCOREBOARD BUT YOU HAVE TO GIVE ME AN AB# .. I CAN TAKE NO NAMES BUT I NEED THE AB.
A GAME HERE HOWEVER IS A PRETTY RELAXING NIGHT. WHILE SITTING IN YOUR COMFORTABLE SEATS, MOTHER NATURE PROVIDES SOME REAL GOOD LOOKING SCENERY FOR YOU TO ENJOY BETWEEN INNINGS. BEING IN A SEATTLE SUBURB, THE AQUASOX KEEP THE CURRENT MARINER GAME UPDATED THROUGHOUT THE GAME.
AS FOR THE PARKING, IT APPEARED THAT IF YOU ARRIVED TO THE GAME EARLY ENOUGH, THERE ARE PLENTY OF PLACES TO PARK FREE IF YOU DON'T MIND WALKING.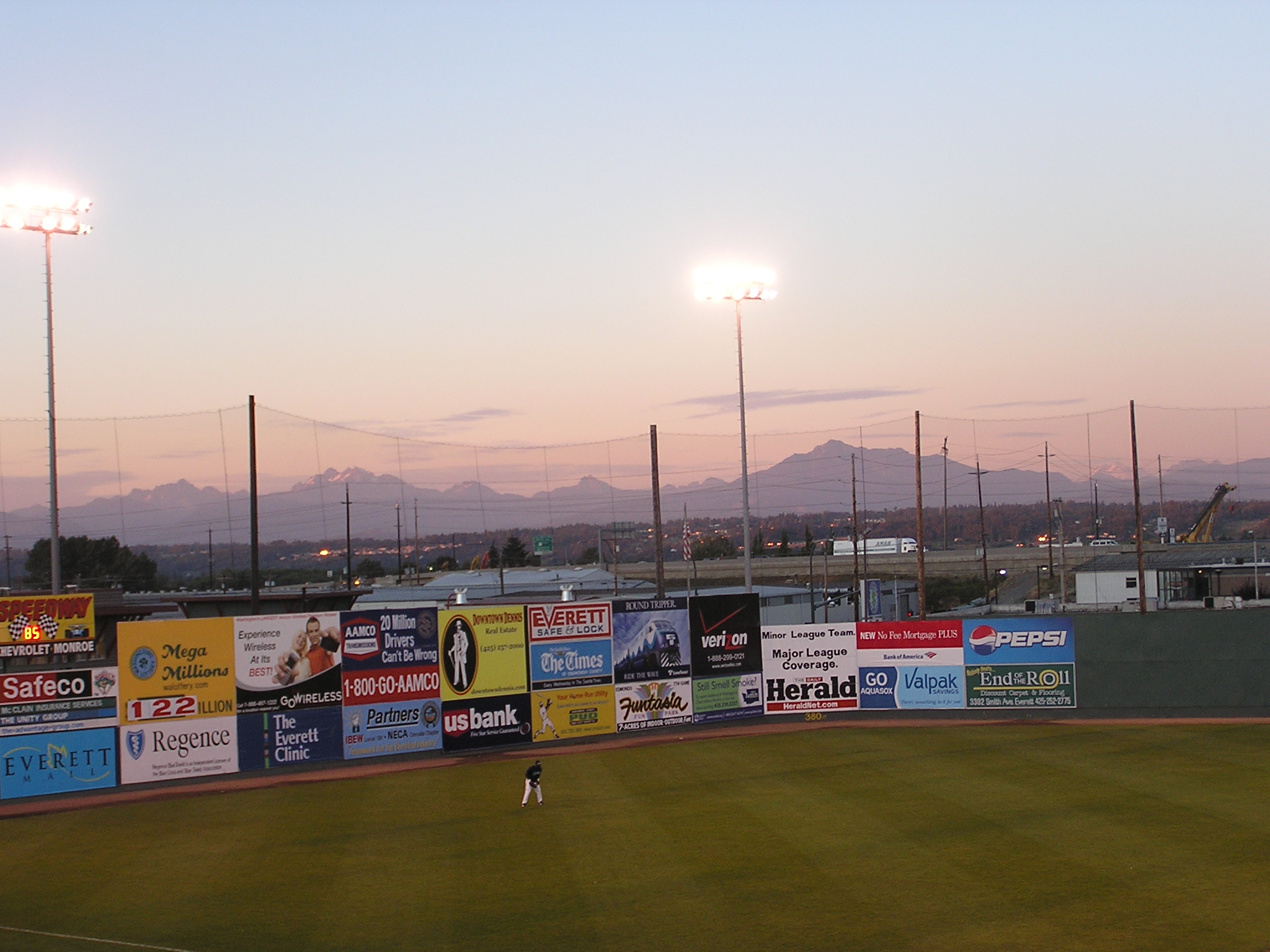 THE LINE UPS
SALEM-KAIZER VOLCANOES MANAGER :::
26 Steve Decker
EVERETT AQUA SOX MANAGER :::
11 Mike Tosar
SALEM - KAIZER VOLCANOES
2 Shane Jordan cf
1 Brock Bond 2b
7 Andrew Davis 3b
9 Matt Downs 1b
43 Chad Rothford dh
35 Garret Baker lf
39 Sean Van Elderen rf
32 Barry Gunther c
6 Sharlon Schoop ss
28 Thomas Brewer p / WP
33 Danny Otero S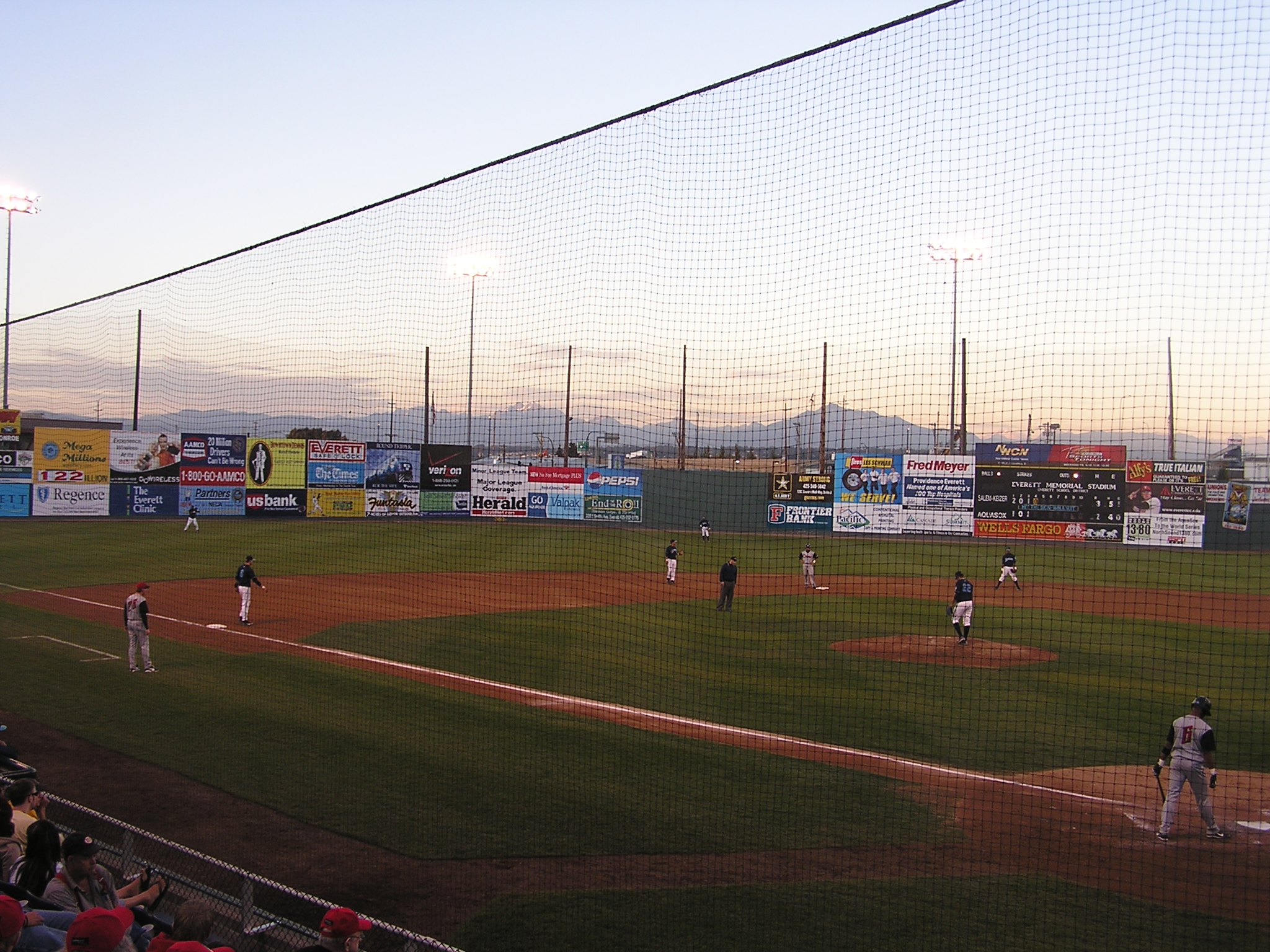 EVERETT AQUA SOX
17 Roberto Mena ss
6 James Davenport 3b
26 Gregory Halman cf
25 Manelik Pimental dh
30 Kris Sanchez 1b
14 Wellington Dotel rf
32 Joe Dunnigan lf
38 Jeffery Dunbar c
13 Deybis Benitez 2b
22 Doug Salinas p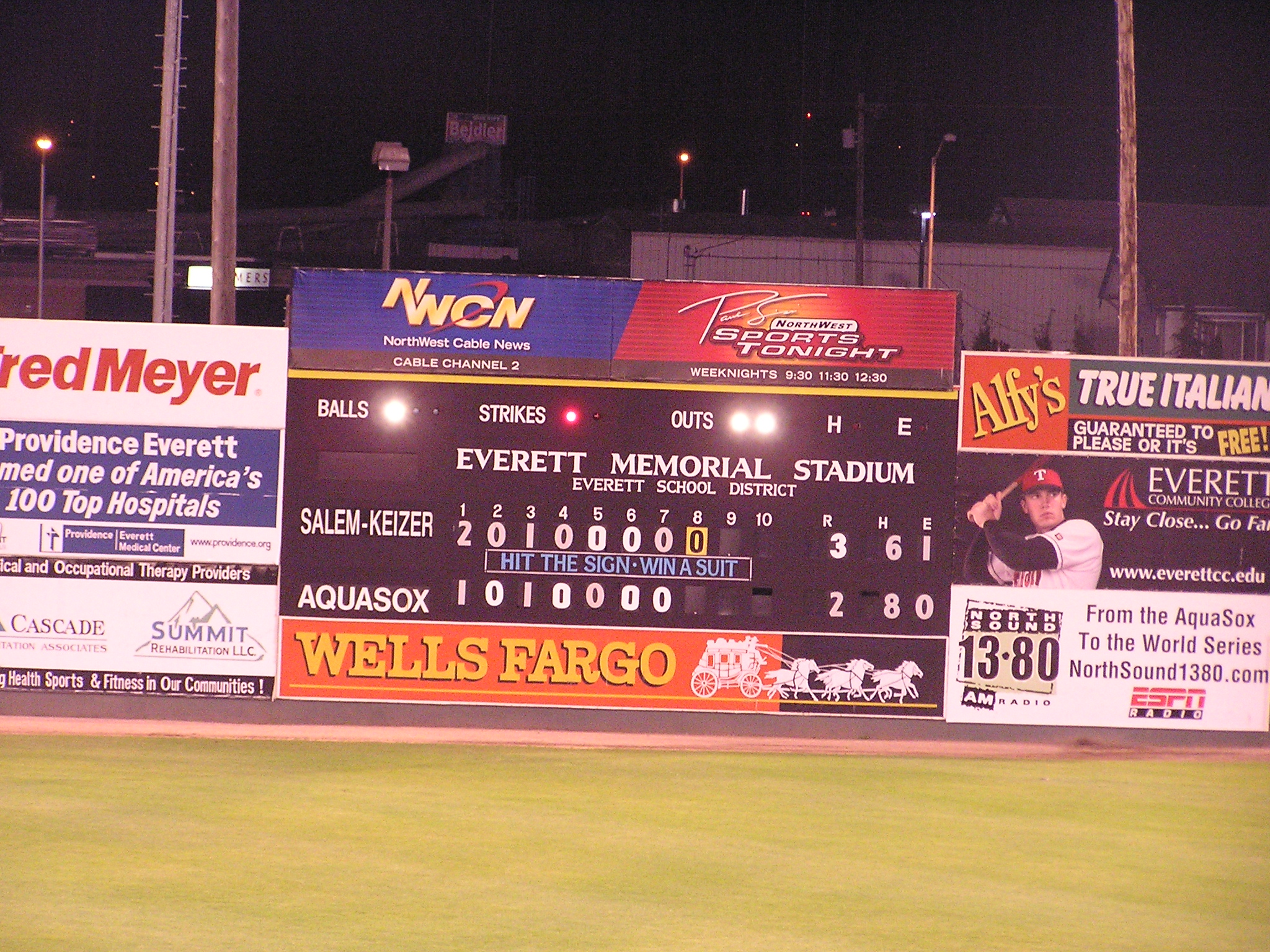 VOLCANOES 201 000 010 4 9 1
AQUA SOX 100 000 000 2 9 0
TIME ::: 2:41
ATTENDANCE ::: 1,978
WEATHER ::: 72, CLEAR COOL
SEND ME AN E-MAIL

LINKS
The Official site of the Everett AquaSox
The Official site of the Seattle Mariners
Everett weather from WEATHER.com

© 2000-2012 UNCLE BOB'S BALLPARKS
I AM IN NO WAY AFFILIATED WITH ANY OF THE TEAMS ON THIS PAGE ... THIS
PAGE IS MEANT FOR INFORMATION PURPOSES ONLY.